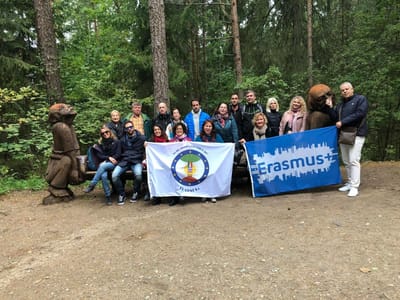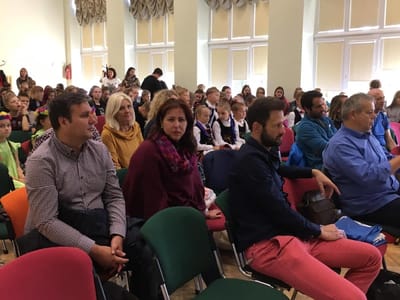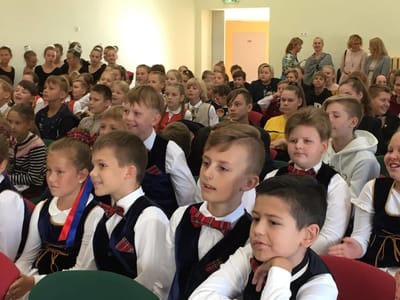 3rd Transnational Activity in Lithuania

As part of the Erasmus+ School Exchanges project entitled "Be the change ... you want to be!" coordinating for the 2018-19 and 2019-20 school years, the 2nd Primary School of Kolindros and participating schools from Italy, Spain, Croatia, Lithuania and Romania, the 3rd Transnational Activity took place from 20 - 24 September 2019 in city Gargždai, Lithuania.
The activity was attended by 35 teachers from all countries, who together with the teachers of the school "Gargždai Minijos progimnazija" implemented the activities foreseen in the program.
Actions began on Friday, September 20, 2019 with the official welcome ceremony. The ceremony was held in the Lithuanian school's event hall.
During the 3rd Transnational Activity, historical, environmental and cultural visits took place in various regions of Lithuania (in the cities of Klaipėda, Gargždai, Palanga, Nida, Neringa peninsula, etc.).
The Lithuanian School has organized a two-day seminar on the use of a variety of teaching techniques and approaches on forms of sustainable development and evaluation. Good practices were used as examples of helping and guiding teachers at all stages of project implementation.
During the discussions on the first day of the seminar each school presented material produced during the first year of our project implementation, including data related to project evaluation to date. The second day was aimed at presenting innovative teaching methods and teaching tools.
The main goal of the training seminar was to exchange good practices - providing teachers with the opportunity to exchange ideas and good practices, to design and envision ways and solutions to address sustainable development issues, and to describe ways in which education Sustainable development can be integrated into Primary and Secondary Education.
The seminar was not only theoretical but also experiential and practical. 12 plenary presentations and 7 information reports were presented in plenary by teachers from Lithuania, Croatia, Greece, Italy, Romania and Spain.
During the five-day Transnational Activity in Lithuania, actions were taken both for students (welcoming ceremony, experiential environmental workshops, local tradition and culture activities) and for teachers (presentation of teaching methods and tools for sustainable development, acquaintance, Lithuania's tradition and culture - visits to museums, historical monuments, places of environmental interest, and project evaluation).
The 3rd Transnational Meeting - Activity in Lithuania was a special experience for all participating teachers. All activities provided opportunities for rich pedagogical experiences and skills from a wide range of knowledge areas and promoted the achievement of the necessary educational goals such as the development of social and environmental awareness and values.
Teacher delegations returned on Wednesday, September 25, 2019 to their homes and schools to apply as well as impart new knowledge and experiences.